As we look ahead to 2021, it's worth considering how the rental market has changed over the last 12 months, most notably with the emergence of a "two-speed" market.
On the 'fast setting' is most of the UK. Average rents outside London are up 1.7% on the year.
Rental growth has been spurred on by the bounce back in demand after the first lockdown. As well as pent-up demand coming back to the market, the demand patterns we saw also suggested that a significant cohort of renters, just like homeowners, had used the first lockdown as a chance to reassess where they were living and the type of home in which they were living – and make a move.
There was more demand from those living in cities to move elsewhere within the city, with specific demand for gardens, balconies and pet-friendly accommodation.
A strong uplift in rental demand in some more rural markets and coastal locations also signalled that the rise of working from home, effectively cutting out the commute, had expanded the search radius of some renters.
In November, rental demand was up by more than 60% on the year in the Cotswolds and West Oxfordshire. The biggest rise in rental demand was seen in Dover, Herefordshire and Dundee. In many areas, this rising demand was not matched by supply, which puts upward pressure on rents.
On the other side of this "two-speed" market are the capital cities of London and Edinburgh – or rather the central zones of these cities.
The changes in commuting patterns took its toll on city centre rental markets. Added to this was the substantial levels of rental stock which traditionally catered to tourists (London and Edinburgh have the highest number of tourist visits in the UK) and short-term business travellers. Many of these 'short-term' and 'holiday' lets shifted into the 'long-let' rental market. Cue an abundance of supply which was not matched by an uplift in demand.
As we approached the end of 2020, the impact on rents had already become clear. Average rents in London were down more than 5% to the end of September, with larger declines in the central boroughs.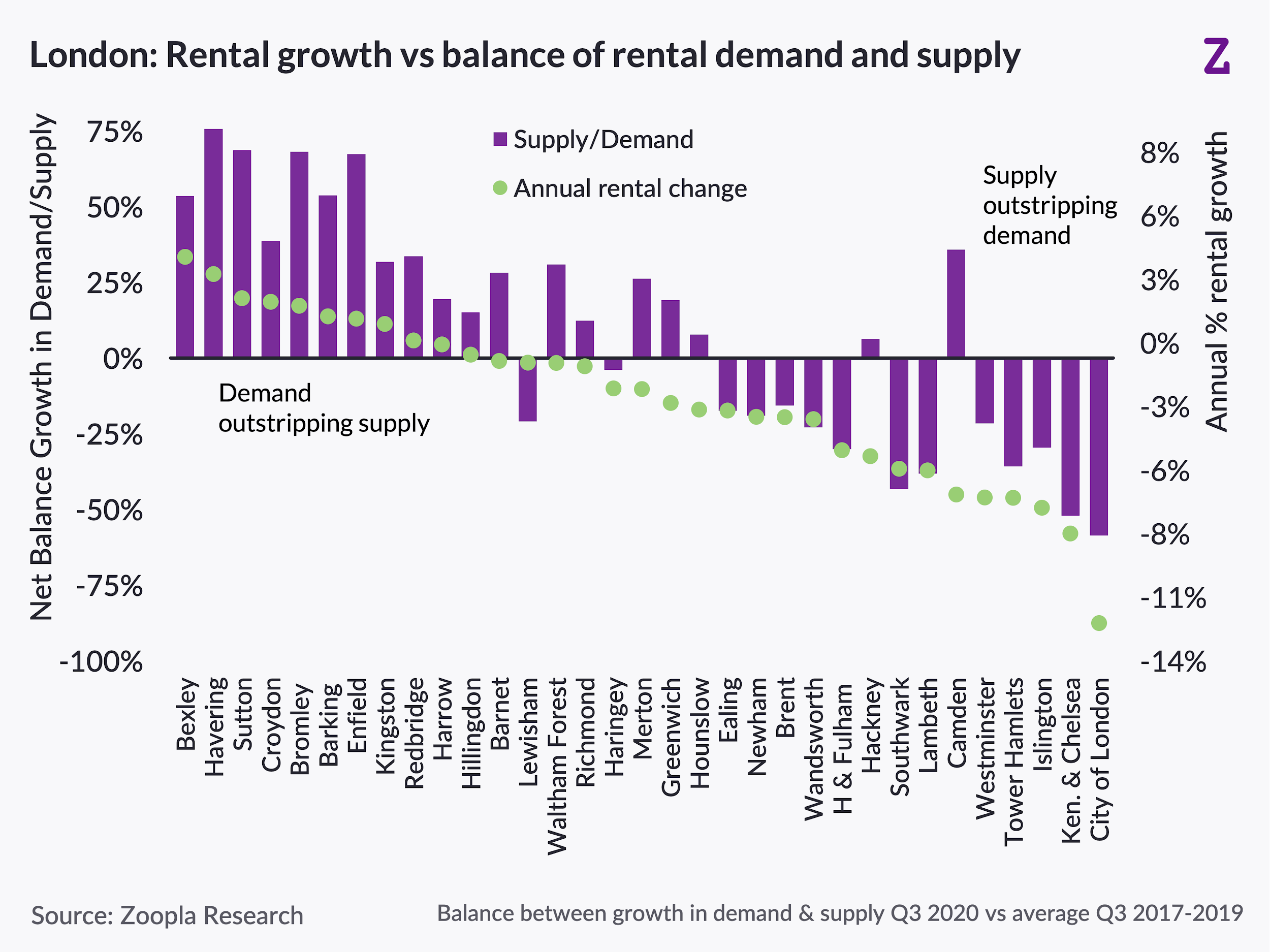 At the same time, average rents in Edinburgh were down -1.6%, compared to +3.2% in Q3 2019.
Looking ahead, as the vaccine rolls out across the country, there is a suggestion that life gets 'back to normal'. But the success of working from home means that working and commuting patterns may have changed for good. This signals that rental markets within wider commuter areas will remain active.
Access to the vaccine for all will also signal a welcome return of tourism and global business travel – and a subsequent pick-up in activity and demand in city centres.
However, this will all take some time. In the first half of the year, we are likely to see the "two-speed" market remain, with potentially larger declines in Edinburgh and London city centres before rents start to even out.
We could see additional cities join Edinburgh and London in negative rents territory in early 2021 however. Rental growth in Birmingham and Manchester is already easing, and local market dynamics, such as employment, average earnings and the supply of new rental accommodation are factoring into this. The 'two-speed' market could start to move more along urban and rural lines until the vaccine is fully rolled-out.
The national picture on average earnings will also influence the market this year. The official data on average wage growth, a metric which has a close correlation to rents, shows a rise of 2.7% in the year to October. Yet it will be hard to maintain this level of wage growth across all sectors of the economy while unemployment continues to climb. The Office of Budget Responsibility has warned that pay levels will be squeezed over the next four years which will likely limit the headroom for strong rental growth in 2021, although, as ever, the market will remain localised.
Grainne Gilmore is head of research at Zoopla.